A ForexTester script will be supplied to you as one or two Windows DLL libraries, so files with a .dll suffix.
To Install
1. Shut down your copy of ForexTester
2. Find the folder where ForexTester is installed. This is usually something like
C:ForexTester3
(or C:ForexTester2 if you're running the older version)
3. Find the Scripts sub-folder (so C:ForexTester3Scripts for example) and copy the two dll files there.
4. Re-start ForexTester and find the Scripts panel. This is usually on a tab next to the Data Window but if you can't find it then go to the View | Show Panels | Scripts menu option, making sure that there's a tick next to it. You should see your script or scripts listed there though you won't initially see anything in the Hotkey section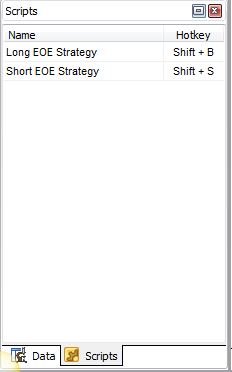 The Scripts panel
5. Right click on one of the scripts and select Edit Script Properties. This will bring up the script properties dialog box. Here you can set all the inputs for your script. The first entry in this list will be the Hot key value. Please note that you must set this value to a unique key combination that is not being used by any other script, otherwise it will complain. Please also note that in general for a ForexTester script there will be a Currency Pair and a time-frame input. In order for your script to work you MUST ensure that both these inputs match the chart that you are working with otherwise the script will not work.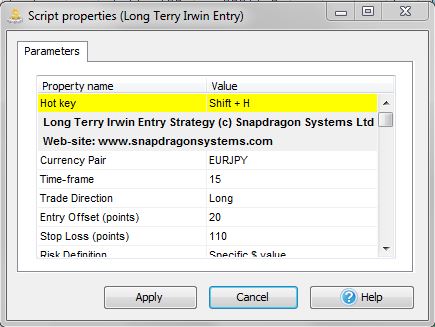 A typical script input selection
6. You can set the other inputs as required for your particular script.
Troubleshooting
If you have any problems with any part of this installation then one useful tip is to look at the Journal tab of ForexTester where helpful information is printed out. There you should see any error messages appear when ForexTester tries to load up the dll.
To Use
When you want to apply the scrip to your chart you can either simply double-click on the script name in the Scripts panel or you can use the unique key combination. This will immediately run the script. Please note that a script is specifically designed to be a "run once" operation. To get it to run again you need to double-click again (or use the key combination again).