Over the years there have been any number of back-testing platforms but one which I've recently come across and which I really like is ForexTester. This has been designed very much to look like MetaTrader 4, which is my preferred FX platform anyway so I feel very much at home with it. What it enables you to do is to step through historic data on a bar by bar basis (or even tick by tick if you really want) and to place trades on the chart using a simple right-click just as you would for Mt4. It has drag-and-drop for it's stop losses and take profit levels and you can trade multiple positions, trade hedged positions in fact everything that you would expect to do on Mt4. It will keep track of all your fills, positions and account equity so it feels just like the real thing. In this way you can back-test your approach across years of historic data, thereby gaining a huge amount of market experience at a much faster pace than you would otherwise be able to if just forward testing in real time.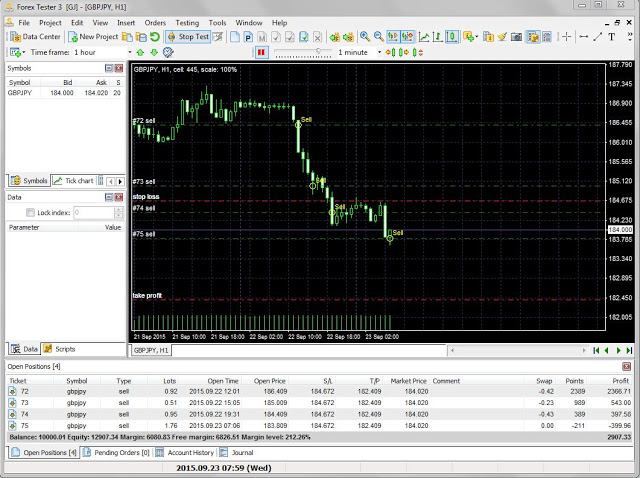 The Forex-Tester Platform in action
So, what are the pro's and con's? Well, if you're looking for a programmatic testing platform then this isn't really the ideal platform. For sure you can code up indicators, scripts and strategies on it but if you have fairly simple back-testing requirements then something like TradeStation or MultiCharts is going to be much better. The one exception to this would be if your strategy involved hedged positions (so both long and short positions simultaneously) in which case the two previous platforms can't easily accommodate it. In such situations I generally use ForexTester, coding my strategy up into a dll "EA" ForexTester Strategy in order to do all my testing.
So if this isn't a programmatic platform then what is it? Well, this is rather for more discretionary traders. If you trade using any method where there's an element of discretion or of "eyeballing the chart" then this is the perfect platform. Perhaps trend-line breaks, support or resistance or Fibonacci levels, all methods which are very hard to do programmatically, for all such approaches this would be the ideal platform. For those of you who are keen on indicators it has all the common ones at your disposal as well as various drawing tools such as Andrew's Pitchfork, wave counts, Fibonacci etc.
In fact I've become so enamoured with this platform that I've started to develop and sell some add-ons for it (see here for details) to make back-testing even easier and more hassle free. Think of it as the ForexTester equivalent of scripts and EA's. In addition I've also launched a simple historic data service whereby users can download historic data which can be imported into ForexTester.
I'll leave you with this fact: of all the successful professional traders that I know (and I know quite a few these days), the vast majority of them swear by ForexTester and attribute their success to using it.
If you would like to buy the ForexTester platform at a discount to the full retail price then you can do so by clicking on this link

here.