FXStrategies
is a great little web-site that I've just recently come across through my association with the trader behind it, Frank Walbaum. Originally from Germany, Frank now lives and trades from his adopted home in Singapore. I got to know Frank at a recent FX conference where we were both speakers and we've kept in touch ever since. Frank is a professional trader who started off working in a family office for three years before moving to managing other people's funds in 2014. He has a refreshingly simple "naked trading" approach with no indicators or bells or whistles: instead it's about candle patterns and support and resistance lines for him. Each morning (9 a.m. UK time) Frank runs a "morning call" where he goes through his trades and discusses what he's presently looking at in the markets. It's also a chance to ask him questions and learn about his approach to trading.
For subscribers who pay his modest monthly fee, his web-site has loads of content including numerous webinar recordings (include some by myself on trading psychology), tutorials, podcasts, Metatrader code and all sorts of other stuff. You also get access to his trade call updates many times a week via Twitter. As a subscriber you can also ask Frank questions directly via Skype or e-mail. He is happy for others to learn how to trade his style and this offers a great opportunity to have direct access to a top professional trader.
So all in all it's a great little site and well worth looking into.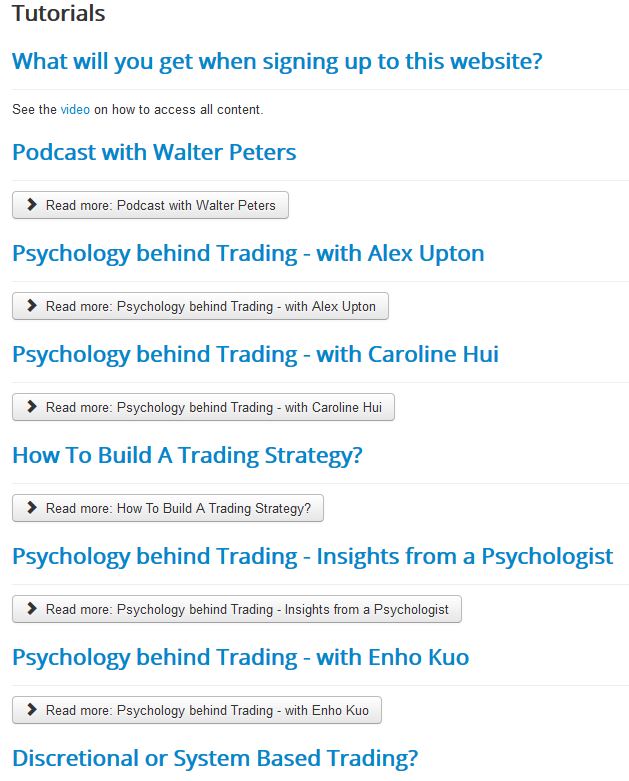 Just some of the tutorial content that's available on the site for subscribers